1 dead, 3 injured, including two children, in Irvine crash where another driver still missing; roads closed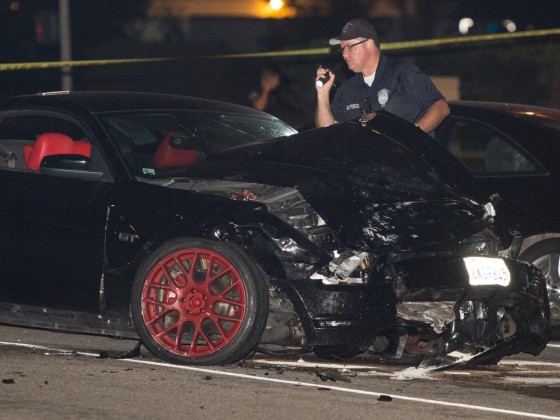 View slideshow
An Irvine Police Major Accident Investigation Team investigator looks over a heavily damaged Ford Mustang after a three vehicle accident left a female dead and four others, included two young children ages 3 and 6, critically injured around 9 p.m. Wednesday night at Alton Parkway and Muirlands Boulevard in Irvine. The driver of the Mustang fled. , KEVIN WARN, CONTRIBUTING PHOTOGRAPHER
IRVINE – A man involved in a nighttime fatal crash in Irvine was still missing the next morning after a 54-year-old Lake Forest woman was killed and another woman and two children were critically injured.
Several major streets remains closed, including:
• Eastbound Alton Parkway at Technology East
• Southbound Barranca Parkway at Ada
• Westbound Alton Parkway has been reduced to one lane from Jeronimo Road through the intersection
• Northbound Barranca Parkway has been reduced to one lane and traffic will make a forced right at Alton Parkway.
"We have a couple of turn lanes open, but because we need daylight to do a thorough investigation, a portion of the intersection remains closed," said Farrah Emami, the Irvine Police Department spokeswoman.
Irvine police and Orange County Fire Authority officials responded to a three-car crash around 9 p.m. near the Muirlands Boulevard and Alton Parkway intersection. Details on how the crash occurred had not been released around 6:30 a.m. Thursday.
A 54-year-old Lake Forest woman was driving a white Chevy Cruze sedan with a female passenger and two children, ages 3 and 6. The driver died at the scene, while the passenger in her mid-30s was taken to a hospital with the two children, who initially were in cardiac arrest, police said.
They remained in serious condition Thursday morning, Emami said.
Coroner officials did not immediately release the driver's name due to pending family notification.
Authorities said a woman driving a black Honda Civic involved in the crash was initially hospitalized, but later released.
Initially, Orange County Sheriff's Department helicopters and two bloodhounds searched for a man who was driving a black Ford Mustang involved in the crash, who fled on foot. When deputies and a Tustin police K-9 could not find the man, additional resources were called off, but Irvine police detectives continued the search Thursday.
It was not immediately released whether or not he owns the Ford Mustang that was left totaled near the intersection.
Drivers were asked to use alternate routes until the roadways are reopened, which may not happen until Thursday afternoon. Alternate routes may include Bake Parkway, Lake Forest Drive, Irvine Boulevard or Irvine Center Drive.
Anyone with information about the crash is asked to call Irvine Police Deparment Detective Jonathan Cherney at 949-724-7024.
Contact the writer: 714-796-7802 or aduranty@ocregister.com