2 drivers hospitalized after big-rig crash on the 91 freeway during morning commute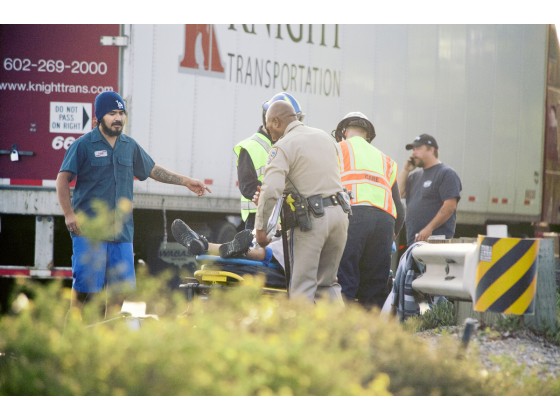 A CHP officer talks to the driver of a Nissan Altima as he is treated by medics after he was injured during a five-car collision involving a
big rig
truck on the eastbound 91 freeway at Euclid St. on Thursday morning in Anaheim.
KEN STEINHARDT, STAFF PHOTOGRAPHER
Two people were sent to the hospital after a big-rig and four vehicles collided Thursday morning on the eastbound 91.
California Highway Patrol officials reported the crash around 6:55 a.m. on the eastbound 91 near Euclid Street.
A big-rig, a green Honda Civic, a white Toyota Corolla, a silver Nissan Altima and silver Chevy Cruze crashed for an unknown reason, which blocked two lanes on the freeway, CHP Officer Denise Quesada said.
The man driving the silver Nissan Altima was taken to UCI Medical Center in Orange after his car crashed under the big rig's trailer, CHP Officer Green said at the scene.
Authorities said the woman in a silver Chevy Cruze, where the airbags deployed following the crash, was taken to a hospital at her request to treat unknown injuries.
Both are expected to survive, Quesada said.
CHP officials issued a SigAlert for the two blocked lanes and expected the freeway to be clear for commuters around 8 a.m.