6-year-old boy dies in crash; both drivers arrested for DUI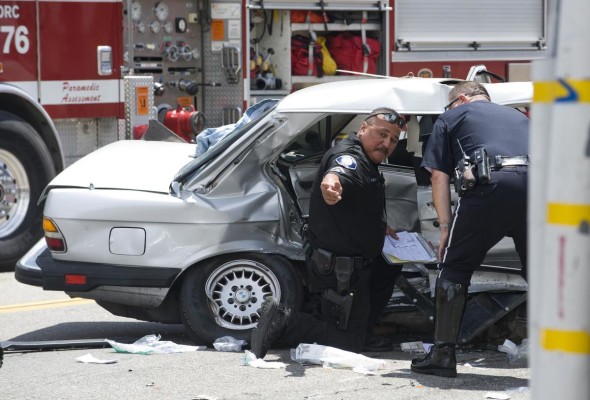 1 of 5
Santa Ana police officers assess the damage to a silver BMW after a crash that police say killed a 6-year-old boy Monday in Santa Ana. SAM GANGWER, STAFF PHOTOGRAPHER
1 of 5
A 6-year-old boy died Monday in a vehicle collision at the intersection of St. Andrews Place and Bristol Street in Santa Ana. Santa Ana police placed one man in custody immediately after the crash. SAM GANGWER, STAFF PHOTOGRAPHER
1 of 5
A Santa Ana police traffic collision investigator takes photos of a Nissa Maxima involved in a crash that police say killed a 6-year-old boy Monday in Santa Ana. SAM GANGWER, STAFF PHOTOGRAPHER
1 of 5
Santa Ana police officers took a man into custody after he was involved in a crash that police say killed a 6-year-old boy Monday in Santa Ana. SAM GANGWER, STAFF PHOTOGRAPHER
1 of 5
A Santa Ana police officer leads away a man placed into custody after a crash that police say killed a 6-year-old boy Monday in Santa Ana. SAM GANGWER, STAFF PHOTOGRAPHER
View slideshow
Santa Ana police officers assess the damage to a silver BMW after a crash that police say killed a 6-year-old boy Monday in Santa Ana. SAM GANGWER, STAFF PHOTOGRAPHER
SANTA ANA – A 6-year-old Santa Ana boy died during surgery Monday afternoon following a traffic collision in which his uncle and another driver were arrested on suspicion of driving under the influence, officials said.
The Orange County Fire Authority and Santa Ana police responded around 12:40 p.m. to the intersection of South Bristol Street and West St. Andrews Place.
David Wayne Cote, 54, of Santa Ana, was driving a BMW going westbound on West St. Andrew's Place when he drove into the intersection with his 6-year-old nephew, Ivan Sandoval, sitting in the passenger seat, OCFA Capt. Stephen Horner said.
At the same time, Armando Duran, 35, also of Santa Ana, drove a Nissan Maxima through the intersection as he was going southbound on South Bristol Street before ramming the passenger side of the moving BMW, Horner said.
"The BMW entered the intersection in an unsafe manner," Cpl. Anthony Bertagna said.
OCFA rescue officials had to cut Cote and his nephew out of the car and began CPR on the boy immediately before he was taken with life-threatening injuries to UCI Medical Center in Orange.
Cote was Sandoval's legal guardian, Bertagna said.
Authorities said Cote was taken to the Orange County Global Medical Center in Santa Ana to be treated for serious injuries in the intensive care unit.
Cote and Duran were both arrested for suspected DUI, Bertagna said.
Cote has multiple felony convictions for possession of a controlled substance dating back to 1987, according to court records.
Contact the writer: 714-796-7802 or aduranty@ocregister.com