Albuquerque police seek Jon Jones as suspect in hit-and-run crash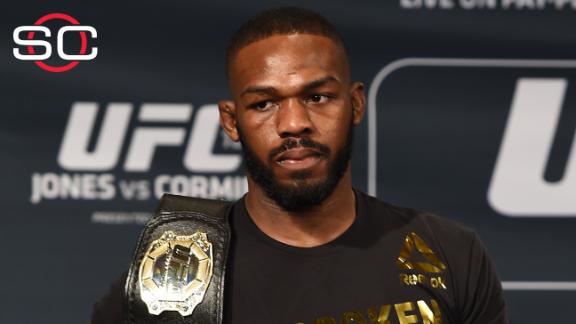 The Albuquerque Police Department is currently seeking UFC light heavyweight champion Jon Jonesas a suspect in a hit-and-run incident on Sunday.
Albuquerque PD spokesman Simon Drobik said Jones is facing a misdemeanor hit-and-run charge related to a car accident that sent one twenty-year-old pregnant woman to the hospital with "non life-threatening injuries." He would be liable for damages to the vehicles involved and medical costs of the pregnant woman.
"The case has progressed and he is now our suspect in the the hit and run that happened earlier this morning involving a pregnant female," Drobik said. "We are now definitely looking at him as a suspect."
Earlier in the day, the Albuquerque PD had posted on social media it could not confirm Jones' involvement in a hit-and-run, but stated an investigation was ongoing.
ESPN reached out to Jones' camp for comment Sunday night, but the camp has yet to respond.
Jones, 27, is scheduled to defend his 205-pound title against Anthony Johnson at UFC 187 on May 23 in Las Vegas. The UFC has not announced any change to the card and Johnson's manager, Glenn Robinson, told ESPN.com Johnson has not been informed of any opponent change.
Jones tested positive for traces of cocaine prior to an eighth title defense against Daniel Cormier on Jan. 3 in Las Vegas. The failed test was administered one month before the fight, but cocaine is considered a banned substance only within a 12-hour window of a contest in Nevada, so Jones was still allowed to compete.
Jones admitted himself to a drug treatment facility after the failed test and eventually underwent outpatient therapy. In numerous interviews since the failed test, Jones has denied any serious drug problem. The UFC fined Jones $25,000 for violating its Code of Conduct.
Jones moved full-time to Albuquerque, the base of his longtime gym, Jackson-Winkeljohn MMA, earlier this year.
In September, Jones was fined $50,000 and ordered to perform 40 hours of community service by the Nevada State Athletic Commission for his part in a public scuffle with Cormier during a UFC press conference on Aug. 4 at the MGM Grand Hotel and Casino.
In May 2012, Jones was arrested under suspicion of driving under the influence after he crashed his Bentley into a telephone pole in Binghamton, New York. Jones pled guilty to a misdemeanor DWI charge and avoided jail time.
Jones became the youngest champion in UFC history in March 2011, when he defeated Mauricio 'Shogun' Rua for the light heavyweight championship at 23 years and eight months old. He holds the UFC record for consecutive light heavyweight title defenses and his only loss came via disqualification to Matt Hamill in December 2009, in a fight he was dominating.
Jones has two brothers playing in the NFL. His older brother, Arthur, is a defensive end for the Indianapolis Colts. His younger brother, Chandler, plays the same position for the New England Patriots.