Aldon Smith arrested in California on charges including DUI, hit and run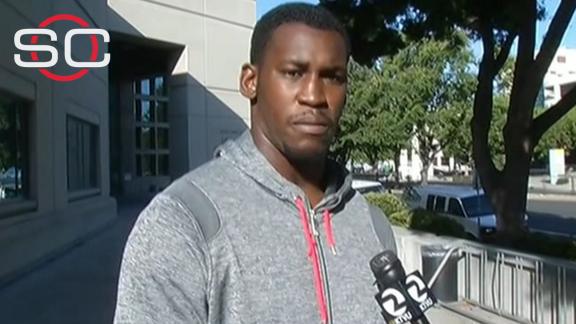 Oft-troubled linebacker Aldon Smith of the San Francisco 49ers was arrested Thursday night on hit and run, driving under the influence and vandalism charges, according to police in Santa Clara, California.
Smith was booked into the Santa Clara County jail and held on $26,000 bond before his release Friday. Authorities said they would provide more information later Friday morning.
This is the 25-year-old Smith's third arrest on suspicion of drunken driving since entering the league in 2011 as a first-round draft pick out of Missouri.
A 49ers team source told ESPN's Josina Anderson: "He [Smith] was on a track and he was making good decisions. But I'll say one thing, there shouldn't be a rush to judgment. We need to figure out what happened and not go into a instant panic. There is usually much more to a story. Let's not overreact and say his career with the 49ers is over just yet."
Smith was arrested on suspicion of DUI in January 2012, a charge that was later reduced to reckless driving. Later that year, he faced three felony weapons charges stemming from a June 2012 party at his home. Police said several shots were fired, two partygoers were injured and Smith was stabbed. Smith pleaded not guilty, and the weapons charges were later reduced.
Smith was arrested and charged with DUI again after a car accident in September 2013. He voluntarily entered rehab and missed five games that season. In July 2014, Smith was sentenced to 11 days of work release for that DUI in Santa Clara.
In August 2014, Smith was suspended for the first nine games of last season for violating the NFL's personal-conduct and substance-abuse policies, in connection to the 2013 drunken-driving arrest.
Smith also was arrested April 13, 2014, at Los Angeles International Airport. Police said he was randomly selected for a secondary screening and became uncooperative, telling a TSA agent he had a bomb. No charges were filed in that incident.
On Tuesday, 49ers GM Trent Baalke said he wants the team to re-sign Smith.
"Aldon's like any young player," Baalke said. "He's growing up, he's maturing. You see that with a lot of these guys. Some of them get themselves in a few more situations that you wish they didn't … [but I'm] really pleased with the way he's handled things, the way he's working both personally and professionally. I think he's doing an outstanding job. He's always been a great teammate. He's always had an excellent work ethic. Those are things he's even stepped up.
"He's in his contract year," he said. "He's poised to have a very good year. We expect him to have a very good year. I think he expects himself to have a very good year.
"We're going to work hard to make sure that he remains here."
Former 49er Charles Haley, who is being inducted into the Pro Football Hall of Fame this weekend, told ESPN's Jim Trotter on Friday that Smith "needs help, and I'm not going to give up on him."
"I don't know how it affects his career, but it's more important about the man — and I told him I'll always be there for him. I'm just sorry that he has to go through this."
"I spoke to him last night [before the arrest]. He called me last night, but he didn't tell me anything," Haley said. "All I know is that the kid has a big heart; he's got some things he's got to work through, and I'm just mad that I couldn't help him get through it. I laid everything I've done in my life on the line for him [to see], the troubles that I had. And I was hoping to be an example for him."
In March, Smith restructured his $9,754,000 salary into a series of bonuses. He'll make $322,150 for each game he is on the Niners' 53-man roster during the season, maxing out at $5,154,400.
Information from ESPN 49ers reporter Paul Gutierrez was included in this report.
Smith: 'Justice will be served'
49ers LB Aldon Smith says there was no DUI and the truth will come out.
Aldon Smith arrested for hit and run, DUI
ESPN analyst Field Yates reacts to the news that 49ers LB Aldon Smith has been arrested on charges of hit and run, DUI and vandalism.