Batman impersonator who did charity work dies in Maryland highway crash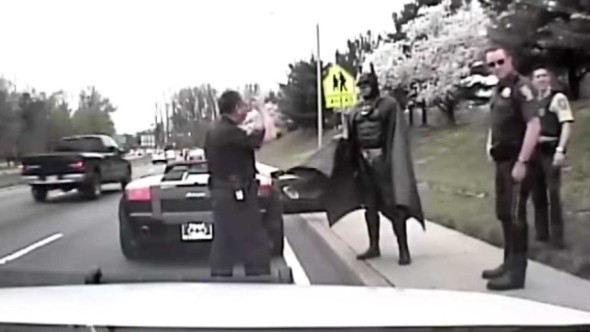 HAGERSTOWN, Md. —
A man who delighted thousands of children by impersonating Batman at hospitals and charity events died in a crash on a Maryland highway.
Police say Leonard B. Robinson, 51, of Owings Mills was checking the engine of his custom-made Batmobile while standing in the fast lane of eastbound Interstate 70 Sunday night when he was struck by a Toyota Camry. The driver of the Camry wasn't injured.
The crash occurred around 10:30 p.m. near the unincorporated community of Big Pool, about 90 miles west of Baltimore.
Robinson, co-owner of an appliance repair business in Virginia, was known for traveling in costume to hospitals in the Baltimore-Washington area.
According to his website, www.superheroesforkids.org, Robinson's mission was "to entertain ill and terminally ill children by appearing to them as Batman and teaching them that just as Batman fights battles, no matter how hard or long their health battles may be, with strength of will and determination, there is always hope."
He gained national attention in 2012 when dashcam video surfaced of police pulling him over while he was driving his black Lamborghini dressed as Batman. Robinson traded the Lamborghini for the Batmobile later that year.
[embedded content]
The Washington Post reported in 2012 that Robinson spent more than $25,000 of his own money on Batman-related items every year, including toys, T-shirts and books he gave away to kids. He averaged about 18 visits a year to hospitals, according to his father, Larry Robinson.
Sharen Sumpter-Deitz, a board member of the South Charleston, West Virginia, Convention and Visitors Bureau, said Robinson had left for home Sunday afternoon after meeting hundreds of children over the weekend at the city's Summerfest, two daycare centers and a library. It was his third visit, she said.
"He always told the children how much he valued them and how good they were and that everything they did meant something," she said. "He made them feel like they were the most important person in the whole wide world when he was talking to them."
DC Entertainment, the Warner Bros. Entertainment Inc. unit that owns Batman, said it was aware of Robinson's work and had no objections. The company posted a message on the official Batman Facebook page: "Our thoughts are with the family and friends of Leonard Robinson, who shared his love of Batman with everyone around him."
Robinson is originally from Bergen County in northern New Jersey. He leaves behind three sons.
The Associated Press contributed to this report.
(Copyright ©2015 WABC-TV. All Rights Reserved.)