BUS CRASH: Feds urge safety improvements in collision that killed Riverside teen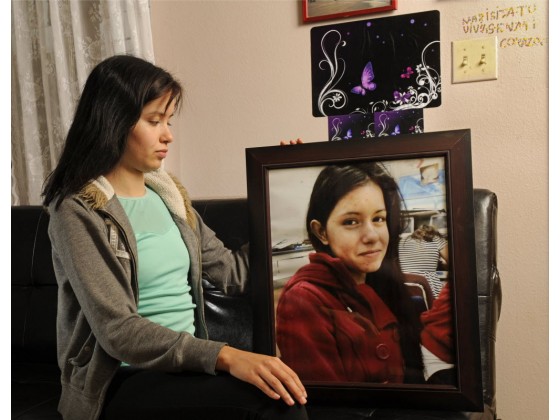 BUS CRASH: Feds urge safety improvements in collision that killed Riverside teen
Marisol Serrato holds a photo of her twin sister, Marisa, who was killed when the driver of a FedEx big-rig crossed over the center divider and plowed into a bus carrying students on their way to visit Humboldt State University on April 10, 2014.
MILKA SOKO, STAFF PHOTOGRAPHER
Federal transportation officials on Tuesday, July 14, revived their call for buses to be as safe as planes and trains as part of their investigative report on a fiery collision in Northern California in 2014 that killed 10 people, including a Riverside teenager and a Cal State San Bernardino graduate.
On April 10, 2014, a FedEx tractor-trailer veered across an I-5 median in Orland, about 100 miles north of Sacramento, and slammed into a charter bus carrying dozens of high school students heading to a tour of Humboldt State University. Both drivers, five students and their three adult chaperones died as the bus burned.
Marisa Serrato, 18, a senior at Norte Vista High, was among those killed. Her identical twin sister, Marisol, was in a second bus that was not hit. Humboldt State was one of several California universities, including UC Riverside, to accept the sisters. Humboldt was their first choice because they thought the beautiful forest surrounding the campus would be an ideal backdrop for the movies they planned to make one day.
Arthur Arzola, 26, a college recruiter from Rancho Cucamonga who graduated from Cal State, also died.
National Transportation Safety Board investigators determined that the truck driver losing control was the probable cause of the crash, but they couldn't conclude why. Their investigation also found that students struggled to escape from the bus because of poorly labeled exits and no safety instructions as required by the bus company's policy.
The four-member NTSB at its Tuesday meeting in Washington, D.C., voted to urge regulators to improve emergency exits and add fire-resistant materials to buses so it is easier for passengers to survive crashes.
NTSB Chairman Christopher Hart said the case exposed "double standards in regulations protecting motor coach passengers."
"When plane crashes are survivable, many more people survive," said Hart.
Board officials said buses should have emergency lighting and more clearly labeled exits as planes do, as well as safety briefings similar to those offered by flight attendants. More than half of the 29 students interviewed did not know which windows were designated as emergency exits, and some shattered other panels to escape. Those who escaped had to drop 7 feet.
The bus was equipped with seat belts, but not all students were wearing them.
The investigation also raised questions about fire safety.
Flames and smoke enveloped the bus after the crash, and two passengers died of asphyxiation. Board officials said existing standards for vehicle materials withstanding fires treat a four-passenger sedan the same as a double-decker bus and don't take into account fires ignited by crashes.
A separate probe by the California Highway Patrol faulted the truck driver, but the state investigators said in May that the driver's body was too badly burned to figure out if the driver fell asleep or had an undiagnosed medical condition.
The NTSB said the driver's actions were inconsistent with him falling asleep, although they were consistent with a seizure or fainting after dehydration. One witness told investigators the FedEx driver appeared slumped over and unconscious before the crash.
FedEx and the bus company, Silverado Stages Inc., are facing lawsuits from survivors of the crash and families of the victims. Marisa Serrato's parents each have retained attorneys.