CHINO: Driver airlifted in Sunday crash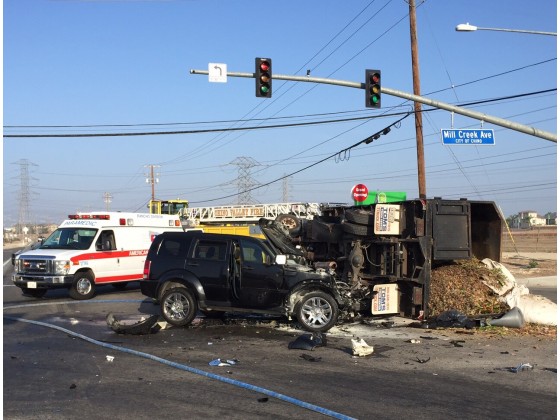 CHINO: Driver airlifted in Sunday crash
A woman was hospitalized Sunday morning after colliding with a commercial truck in Chino.
COURTESY OF CHINO VALLEY FIRE DISTRICT
A woman was flown to the hospital with major injuries Sunday morning after she collided with a commercial vehicle in southern Chino.
At 6:39 a.m., Chino Valley Fire District firefighters responded to a two-vehicle crash involving an SUV and a commercial truck at Mill Creek and Pine avenues.
The driver of the SUV, aged in her late 50s, was trapped inside the vehicle, said CVFD spokesperson Massiel Deguevara.
Firefighters removed the woman, who was then taken by helicopter to an area hospital. She was the lone occupant of the black SUV.
The driver of the commercial vehicle sustained minor injuries and declined medical services.
The Chino Police Department is conducting an investigation on the crash. No more details were available, Deguevara said.