CORONA: Hillside along Highway 91 catches fire after crash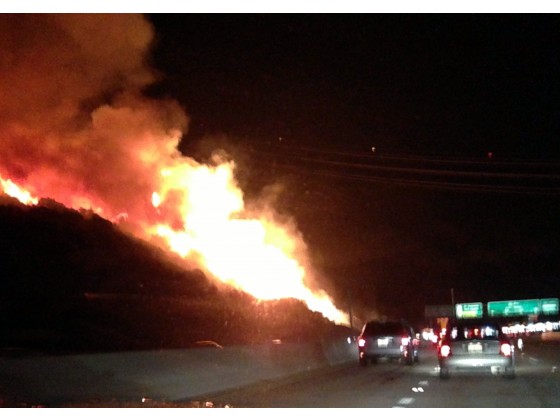 CORONA: Hillside along Highway 91 catches fire after crash
A car that landed on the mountainside near Green River Road in Corona caught fire and prompted a brush fire on Tuesday, July 14, 2015. (ALICIA ROBINSON, STAFF)
Traffic was quickly backing up on Highway 91 in Corona after a car left the freeway, landed on the mountainside and caught fire – sparking a brush fire.
The three right lanes of the eastbound 91 were closed just west of the Green River Road offramp – and the CHP has issued a SigAlert.
As of 10:45 p.m., traffic was backed up for about 3 miles, the Caltrans Quickmap shows.
The backup wasn't helped by construction work that was already planned for the area.
The initial crash into the mountain was reported at 10:08 p.m., the CHP incident log shows. Twenty minutes later, the vehicle was engulfed in flames.
About that time, witnesses were reporting that the brush on the mountain was catching fire.
This isn't the first time this year the hillside in that area has caught fire; in mid-April, 7 acres burned west of Green River Road.