Cypress man identified as driver killed on westbound 22 crash in Orange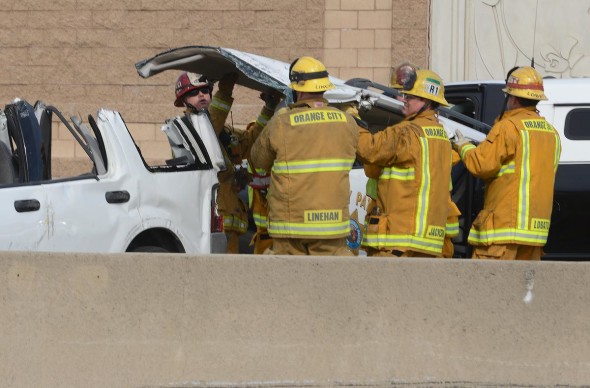 1 of 3
Orange city firefighters lift the roof off a white Ford Explorer that crashed into the center divider of the 22 freeway, killing one person about 11 a.m. Wednesday. SAM GANGWER , STAFF PHOTOGRAPHER
1 of 3
A barely visible yellow tarp covers the body of a person killed when a white Ford Explorer crashed into the center divider of the 22 freeway about 11 a.m. Wednesday. SAM GANGWER , STAFF PHOTOGRAPHER
1 of 3
A yellow tarp covers the body of a person killed when a white Ford Explorer crashed into the center divider of the 22 freeway about 11 a.m. Wednesday. SAM GANGWER , STAFF PHOTOGRAPHER
View slideshow
Orange city firefighters lift the roof off a white Ford Explorer that crashed into the center divider of the 22 freeway, killing one person about 11 a.m. Wednesday. SAM GANGWER , STAFF PHOTOGRAPHER
ORANGE – A Cypress man was identified Thursday morning as the driver killed in a rollover crash a day earlier on the 22 freeway.
Raul Sousa, 34, was driving a 2002 white Ford Explorer shortly before 11 a.m. Wednesday on the westbound 22 freeway when he crashed near the center divider just west of Glassell Street.
The crash caused the SUV to roll several times and a witness told California Highway Patrol officials that Sousa was tossed around the vehicle before it came to a rest on its wheels, CHP Officer Florentino Olivera said Wednesday.
Sousa was partially thrown from the SUV and was pronounced dead by Orange Fire Department officials.
Several lanes of the westbound 22 freeway were closed for nearly four hours following the crash. No one else was injured or involved.
It was unknown what caused Sousa to lose control of the SUV, and officials suspected he was not wearing a seatbelt.
Authorities from the CHP Santa Ana office are investigating and looking for witnesses. Anyone with information has been asked to call CHP Officer O. Guzman at 714-567-6000.
Contact the writer: 714-796-7802 or aduranty@ocregister.com