Driver crashes into Garden Grove utility pole before fleeing; Magnolia Street closed during repairs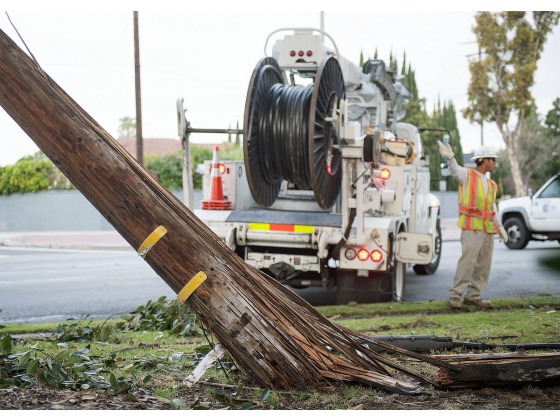 A lineman sets up to help replace a communications line during a street closure on Magnolia St in both directions between Garden Grove Blvd and Trask Ave in Garden Grove due to a driver who crashed into a communications pole before running away Tuesday morning.
KEN STEINHARDT, STAFF PHOTOGRAPHER
A driver crashed into a Garden Grove communications pole early Tuesday morning before fleeing, police said, as Magnolia Street was closed during the repairs.
Garden Grove police responded to reports of a crash around 1:20 a.m. on Magnolia Street between Trask Avenue and West Garden Grove Boulevard.
When officers arrived, they found a 1993 Toyota car crashed into an AT&T communications pole, knocking down live lines, but no driver, police Sgt. Amir Elfarra said. Officers are still searching for the missing driver.
Authorities closed down Magnolia Avenue in both directions while AT&T officials repaired the damage.
The road was expected to reopened by 8:15 a.m., but drivers were asked to avoid the area until then, Elfarra said.
Any witnesses to the crash or anyone with information about the driver can call the Garden Grove Police Department at 714-741-5704.