Marcus Smart: 'Freak accident'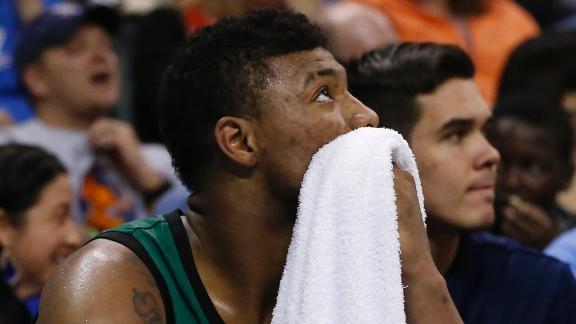 Boston Celtics rookie point guard Marcus Smart earned a flagrant foul 2 and was ejected from Friday night's game for striking San Antonio Spurs' forward Matt Bonner with an uppercut to the groin.
The league reviews all flagrant fouls and can also fine or suspend Smart.
Bonner was attempting to screen Smart out near the 3-point arc with 9 minutes to play in the fourth quarter, but instead of running into contact, Smart seemed to intentionally swing his arm to strike a prone Bonner.
The two players immediately started jawing at each other and had to be separated by officials as play was stopped. Upon video review, the referees deemed Smart's strike a flagrant 2, which comes with automatic ejection.
After the game, Smart told reporters the strike was a "freak accident" and suggested he was just trying to fight through the screen.
"Like every other play, I was trying to get through a screen," Smart told reporters after the game. "(Aron Baynes) screened me, (Bonner) tried to clean up the screen, and I tried to fight through. He had his arms up high — locked arms — and my body, the way (Baynes) hit me threw my body back, so it forced all my momentum to come forward, and (Bonner) just happened to jump in the way as I was trying to rip through and rip up, and he got caught.
"Like I told him, I wasn't trying to intentionally do it, because if I was, obviously he wouldn't have come at me the way he did. It was just something that was just a freak accident — inadvertent arm that happened to connect."
Smart's arm appeared to get snagged coming off an initial screen, but that only made it look like he intentionally wound up to strike Bonner, a New England native.
"From my standpoint, it looks like an unacceptable play," Celtics coach Brad Stevens told reporters after the game. "You can't do that. Simple as that."
Stevens was asked later whether Smart's frustration had been building before his ejection.
"You've got to be able to handle it," Stevens said. "That's something that hopefully he'll mature from and grow from, but that's something that, no matter how the game is going, no matter how frustrated you are, no matter how many times something hasn't gone your way, you have to do the right thing."
Smart scored a career-high 25 points in Wednesday's loss to the Oklahoma City Thunder. He posted 10 points on 3-of-9 shooting with four assists over 23 minutes before his ejection Friday night.