Motorcyclist dies after crashing into the back of street sweeper in Santa Ana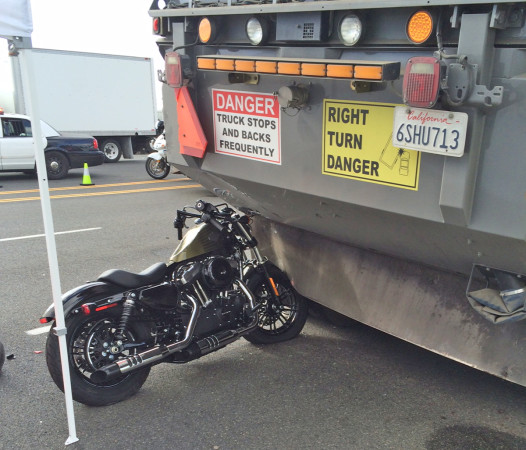 1 of 2
A motorcyclist died Thursday after he crashed into the back of a stopped street sweeper near the 2800 block of Red Hill Avenue in Santa Ana. Investigators suspect a man was riding a Harley-Davidson motorcycle at "clearly unsafe speeds"€ when he crashed, Santa Ana police Cpl. Anthony Bertagna said. Courtesy of Santa Ana Police
1 of 2
A motorcyclist died Thursday morning after he crashed into the back of a stopped street sweeper near the 2800 block of Red Hill Avenue in Santa Ana. Investigators suspect a man was riding a Harley-Davidson motorcycle at "clearly unsafe speeds" when he crashed, Santa Ana police Cpl. Anthony Bertagna said. COURTESY OF SANTA ANA POLICE , COURTESY OF SANTA ANA POLICE
View slideshow
A motorcyclist died Thursday after he crashed into the back of a stopped street sweeper near the 2800 block of Red Hill Avenue in Santa Ana. Investigators suspect a man was riding a Harley-Davidson motorcycle at "clearly unsafe speeds"€ when he crashed, Santa Ana police Cpl. Anthony Bertagna said. Courtesy of Santa Ana Police
SANTA ANA – A motorcyclist died Thursday morning after he slammed into the back of a stopped street sweeper, police said.
Tustin police received reports of a crash at 6:45 a.m. near Red Hill and East Warner avenues, but when officers arrived they realized the incident happened on the other side of the city border in Santa Ana.
Investigators suspect a man was riding a Harley-Davidson motorcycle at "clearly unsafe speeds" southbound on Red Hill Avenue when he crashed into the back of a stopped street sweeper near the 2800 block, Santa Ana police Cpl. Anthony Bertagna said.
The man, who recently purchased the motorcycle as indicated by the paper license plates, died at the scene.
Police closed down southbound Red Hill Avenue between East Warner Avenue and Barranca Parkway during the investigation.
The northbound lanes of the street remained open during the investigation, but officials advised anyone heading south to avoid Red Hill Avenue until at least Thursday afternoon.
Check back for updates.
Contact the writer: 714-796-7802 or aduranty@ocregister.com