Multiple crashes snarl I-5 freeway in Lake Forest, send 2 to hospital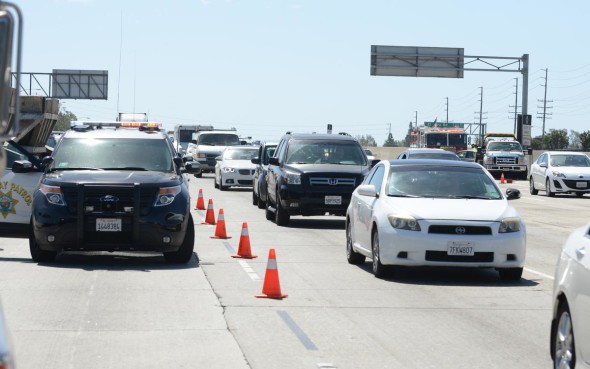 1 of 4
Traffice backed up all the way to La Paz after a SigAlert was issued for 45 minutes at 10:30 a.m. for an overturned Toyota Sequoia on the northbound I-5 between El Toro Road and Lake Forest Avenue Monday. Several cars and a big rig were involved in the crash, sending the driver of the Toyota to the hospital. SAM GANGWER, STAFF PHOTOGRAPHER
1 of 4
A black Toyota Sequoia is pulled back right side up after being involved in a multi-vehicle crash on the northbound I-5 between El Toro Road and Lake Forest Avenue Monday. Several cars and a big rig were involved in the crash, sending the driver of the Toyota to the hospital. SAM GANGWER, STAFF PHOTOGRAPHER
1 of 4
A tow truck driver sprinkles absorbant on the HOV lane where one of three cars involved in amulti-vehicle crash ended up. A SigAlert was issued for 45 minutes at 10:30 a.m. for an overturned Toyota Sequoia on the northbound I-5 between El Toro Road and Lake Forest Avenue Monday. Several cars and a big rig were involved in the crash, sending the driver of the Toyota to the hospital. SAM GANGWER, STAFF PHOTOGRAPHER
1 of 4
A Blair's Tow Truck driver hooks a chain to the underside of an overturned Toyota Sequoia on the northbound I-5 between El Toro Road and Lake Forest Avenue Monday. Several cars and a big rig were involved in the crash, sending the driver of the Toyota to the hospital. The CHP called a SigAlert for 45 minutes at 10:29 a.m. and closed the number 4 and 5 lanes. SAM GANGWER, STAFF PHOTOGRAPHER
View slideshow
Traffice backed up all the way to La Paz after a SigAlert was issued for 45 minutes at 10:30 a.m. for an overturned Toyota Sequoia on the northbound I-5 between El Toro Road and Lake Forest Avenue Monday. Several cars and a big rig were involved in the crash, sending the driver of the Toyota to the hospital. SAM GANGWER, STAFF PHOTOGRAPHER
Two people were hospitalized after a multi-vehicle crash on the I-5 freeway in Lake Forest Monday morning.
California Highway Patrol officials reported the crash at about 10:20 a.m. on the northbound I-5 near Lake Forest Drive.
It is unclear how many cars were involved, but there were two flatbed trucks, one big-rig and one overturned vehicle, said CHP Officer Denise Quesada.
The crashes snarled traffic and blocked at least three lanes for more than an hour while firefighters evaluated drivers for injuries.
A 46-year-old man was taken to Mission Hospital in Mission Viejo after his SUV rolled over and he had to be cut out, said Capt. Steve Concialdi of the Orange County Fire Authority.
"We evaluated a number of patients but only two were transported," Concialdi said.
The second person was a woman who was taken to Hoag Hospital in Irvine with minor injuries. A third person was treated at the scene but did not want to be taken to a hospital.
Details about what prompted the crash were not immediately available. All lanes were clear just before noon.
Contact the writer: afausto@ocregister.com