NEPAL: Civilians were on crashed U.S. copter, death toll now 13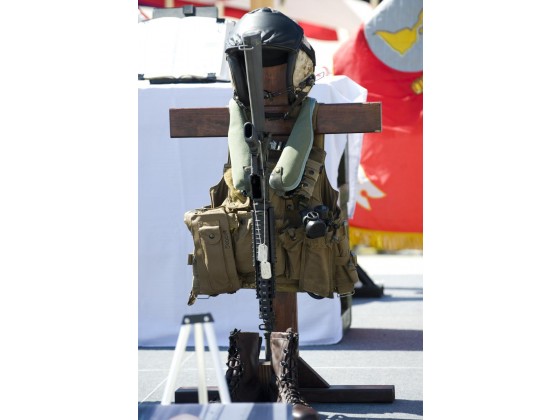 NEPAL: Civilians were on crashed U.S. copter, death toll now 13
A cross holds the helmet, vest, rifle and boots of Marine Sgt. Eric M. Seaman at a memorial ceremony Wednesday at Camp Pendleton for the six Marines killed in Nepal.
SAM GANGWER , SAM GANGWER, STAFF PHOTOGRAPHER
How to help Nepal victims
Two major earthquakes and hundreds of aftershocks have killed more than 8,700 people, injured thousands and destroyed scores of homes, businesses and schools.
The need continues in the crippled nation. Some ways to help:
• unicefusa.org  
• samaritanspurse.org  
• international medicalcorps.org  
How to help Seaman family
To donate to help the family of Sgt. Eric Seaman: gofundme.com/u2au99c.
KATHMANDU, Nepal – A U.S. military helicopter that crashed in Nepal last month on an earthquake relief mission was carrying five more passengers than first thought, raising the death toll to 13, Nepal's army said Friday.
Authorities initially said six U.S. Marines and two Nepalese soldiers were killed. Among the Marines who died was Sgt. Eric M. Seaman, 30, of Murrieta, a 2003 Elsinore High graduate who left behind a wife and two young children.
Four of the Marines were part of the Marine Light Attack Helicopter Squadron 469 of the 3rd Marine Aircraft Wing based at Camp Pendleton. Two other Marines were combat cameramen based in Japan.
DNA tests and investigations by experts from both countries confirmed that five other people on the chopper were local villagers, the army said in a statement. The five reportedly were injured people being transported to a medical facility.
The UH-1 "Huey" helicopter crashed May 12 in the northeastern mountains, and the wreckage was found after days of intense searching. The first three charred bodies were retrieved by Nepalese and U.S. military teams, and the rest were found a day later.
The U.S. relief mission was deployed after a magnitude-7.8 earthquake hit Nepal on April 25. A magnitude-7.3 quake struck on May 12 and hours later the helicopter crashed.
The cause of the crash has not been determined. U.S. military officials have said that an Indian helicopter in the air nearby heard radio chatter from the Huey about a fuel problem.
Earlier this week, a private helicopter chartered by Doctors Without Borders crashed after hitting power cables, killing all four people on board. Three victims were Nepalese and the other was a Dutch woman.
The government and aid agencies have used helicopters to carry relief materials to mountainous regions where earthquake damage or the lack of existing roads has made delivery of aid all but impossible.