NEWPORT BEACH: Wildomar man killed in OC crash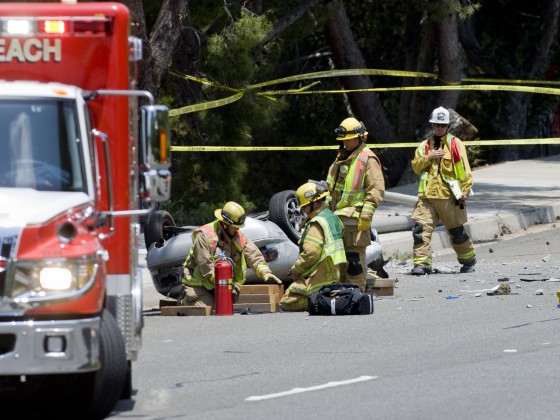 NEWPORT BEACH: Wildomar man killed in OC crash
Firefighters responded to a Newport Beach crash that killed a Wildomar man on Monday, May 18, on Jamboree Road in front of the Hyatt Regency Hotel.
SAM GANGWER, STAFF PHOTOGRAPHER
A 22-year-old Wildomar man died and a woman was seriously injured after their car hit a power pole and rolled over Monday afternoon in Newport Beach, police said.
Officers were called for a crash at around 12:30 p.m. on Jamboree Road in front of the Hyatt Regency hotel in the 1100 block of Jamboree Road, according to the Newport Beach Police Department.
The initial investigation showed that a silver Mazda Miata traveling southbound on Jamboree hit a concrete power pole and rolled onto its roof, said Newport Beach police spokeswoman Jennifer Manzella.
Trent Morris was pronounced dead at the scene and the woman was taken to Western Medical Center in Santa Ana in serious condition. It was unclear which person was driving.
"At this point we have no reason to believe drugs or alcohol played a role," Manzella said.
Investigators are still determining if speed was a factor in the crash, Manzella said.�