ORLAND BUS CRASH: FedEx driver faulted in crash that killed 10, CHP says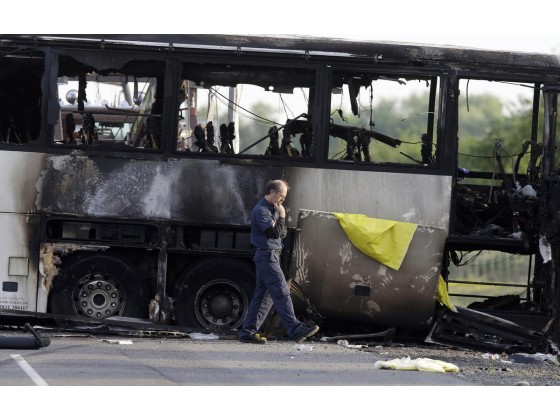 ORLAND BUS CRASH: FedEx driver faulted in crash that killed 10, CHP says
A FedEx driver collided head-on with a bus in 2014 carrying Southern California students, killing 10 of them.
THE ASSOCIATED PRESS
The California Highway Patrol faulted a FedEx driver after a yearlong investigation into an accident in Northern California that killed 10 Southern California teens – including a student from Norte Vista in Riverside.
Sgt. Nate Parsons, who led the investigation, on Friday, May 22, said the accident occurred after a FedEx big-rig driven by Tim Evans veered into the center median on Interstate 5 in Orland, about 100 miles north of Sacramento, and subsequently into oncoming traffic.
What caused the driver to veer into traffic, Parsons said, remains a mystery. What investigators do know is that the driver made no evasive maneuvers after veering out of his lane of travel and alcohol and fatigue were not considered factors in the crash.
Those killed in the crash were:
• Marisa Serrato, a church-going student at Norte Vista High School in Riverside, and whose identical twin, Marisol, made the trip on a different bus and was not injured;
• chaperone Arthur Arzola, 26, of Rancho Cucamonga, who was a college recruiter helping to lead the excursion to Humboldt State;
• Michael Myvett and Mattison Haywood, who were serving as chaperones on the trip and had gotten engaged during a December 2013 trip to Paris;
• Denise Gomez and Ismael Jimenez, the reigning homecoming queen and king at Animo Charter High School in Inglewood;
• Jennifer Bonilla, a Los Angeles Dorsey High School honor student who had won a college scholarship and was considered a campus leader by school administrators;
• Adrian Castro, a popular El Monte High School football player who fellow students referred to as a positive role model;
• bus driver Talalelei Lealao-Taiao, of Sacramento; and
• FedEx truck driver Tim Evans, 32, a lifelong resident of the Sacramento area who had married his high school sweetheart, fathered two daughters and helped coach their soccer and softball teams.