Photos: Multi-vehicle crashes on eastbound 22 at Euclid Street cause major delays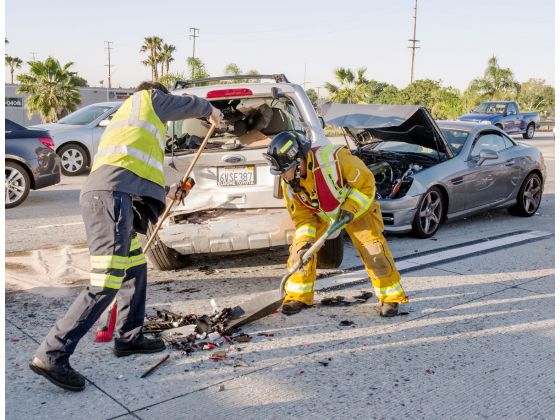 View slideshow
A garden Grove firefighter helps a tow rig operator clear debris from the freeway where two people were injured Wednesday morning in a multi-vehicle collision on the eastbound 22 freeway. KEN STEINHARDT, STAFF PHOTOGRAPHER
Two people were injured after seven vehicles crashed Wednesday morning, possibly in two separate wrecks, causing delays until shortly after 8 a.m.
California Highway Patrol officials reported the first crash occurred at 6:30 a.m. on the eastbound 22 freeway near Euclid Street.
Authorities issued a SigAlert, which was lifted at 8:02 a.m.
It initially appeared that one crash involved four vehicles that were significantly damaged, three ending up near the center divider and one by the shoulder, CHP Officer Denise Quesada said.
Two of those vehicles were facing the wrong direction immediately after one of the crashes, Quesada added.
Garden Grove Fire Department paramedics took two people to a hospital with minor injuries and both are expected to survive, Battalion Chief T.J. McGovern said.
It appeared a GMC Yukon, a Ford Escape, a Toyota FJ Cruiser, a Toyota Camry, Honda Accord, Dodge Magnum and Mercedes SLK were involved.
At 6:51 a.m., the CHP reported that the fire department closed all lanes on the eastbound side of the freeway, but two lanes reopened before 7 a.m.

Traffic was backed up for most of the morning commute, but began to thin out once the lanes were cleared.