RIVERSIDE: 2 dead, 2 hospitalized after crash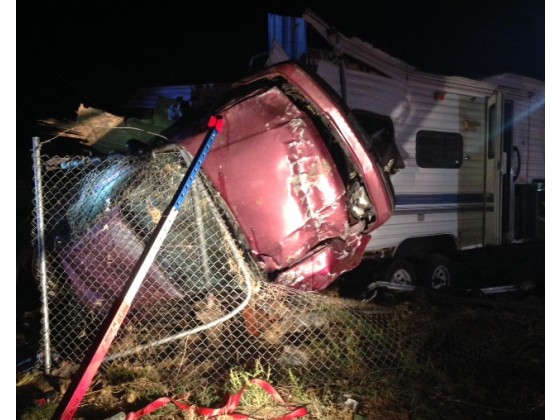 RIVERSIDE: 2 dead, 2 hospitalized after crash
Two people were killed and two others are in critical condition after a Sunday morning collision.
RIVERSIDE FIRE DEPARTMENT
Two people were killed and two more are in critical condition following a Sunday morning crash on Interstate 215.
At 3:45 a.m. Sunday, Riverside Fire Department officials responded to a crash at the intersection of Box Springs Road and the Interstate, just north of where the 60 and 215 merge.
The maroon vehicle left the roadway and rolled several times before breaking through a chain link fence and colliding with a travel trailer, according to a fire department news release.
Fire crews extricated several victims from the car. Two were taken to the hospital in critical condition. Two were pronounced dead on scene.
The Riverside County Coroner's Office has not released the names of the victims.