RIVERSIDE: Car crash hospitalizes 2, topples light pole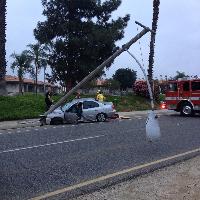 RIVERSIDE: Car crash hospitalizes 2, topples light pole (UPDATE)
Drowsy driving prompted an early-morning crash hospitalized both occupants of a car that toppled a light pole in Riverside, say city police and fire officials.
The wreck was reported at 7:18 a.m. Sunday, March 22, at Van Buren Boulevard and Cleveland Avenue at the southwest corner of Arlington Heights Sports Park.
The light pole landed atop the Hyundai Elantra.
One of the victims suffered critical injuries, Battalion Chief Jennifer McDowell said in a written statement.
Police quickly determined the cause.
"The driver fell asleep at the wheel and swerved into the utility pole," said Sgt. Rene Ramirez.