SAN BERNARDINO: 2 children hurt in crash; alcohol suspected, police say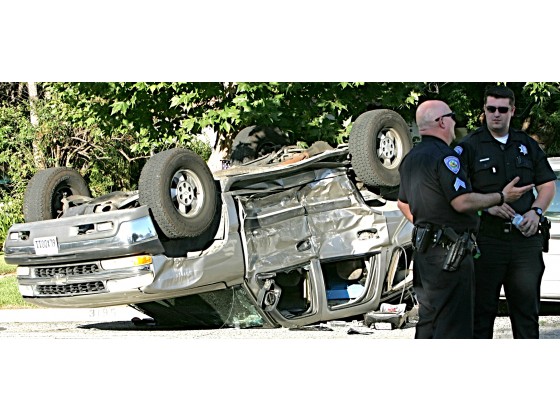 SAN BERNARDINO: 2 children hurt in crash; alcohol suspected, police say
Police confer after an intersection crash that ejected two small children into the street in San Bernardino on Monday, June 15, 2015.
RICHARD BROOKS, STAFF
Drunken driving is suspected in a crash that sent two young children tumbling into the street from an SUV that had run a stop sign, hit another SUV and two parked vehicles, say San Bernardino police.
No one was killed during the 5:14 pm wreck Monday, June 15, at Marshall Boulevard and D Street.
But both children were taken to the hospital with what accident investigators described as non life-threatening injuries.
The crash badly damaged a southbound Chevy Tahoe that police said ran a stop sign and slammed into an eastbound Jeep Liberty,
The Tahoe then hit a 1998 Ford Windstar minivan and a Ford Econoline motor home, both belonging to Dannell Duran and parked outside her corner home of five years.
"What I heard was a loud boom like a train coming right toward my house," she said. "A little boy crawled out from between my two vehicles, all bloody. He couldn't have been more than 2.
"The (driver) had two little kids in the car, apparently."
The driver seemed stunned, said Duran, who estimated the younger child's age at 9 or 10 months.
The driver she described as stunned was being investigated as a stop-sign runner who was believed to have been driving under the influence, said Sgt. Darren Means. Means described the man as a San Bernardino resident in his 30s.
The investigation was continuing.