Steve Weatherford avoids injury after early morning car accident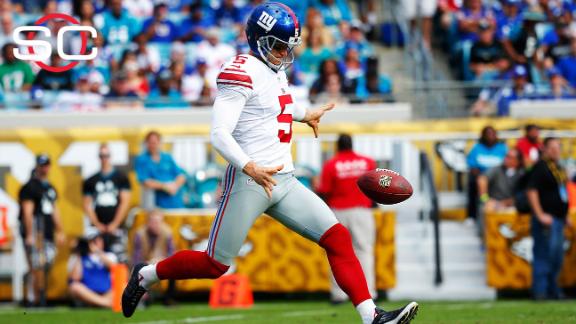 EAST RUTHERFORD, N.J. —New York Giants punter Steve Weatherford is uninjured after being involved in a scary car crash early Monday morning.
Weatherford, who was driving a rental car after his travel plans were altered, skidded on the rainy New Jersey Turnpike at about 3:30 a.m. ET before slamming into a median, setting off the airbags and totaling the vehicle.
The outspoken Weatherford posted multiple photos and messages about the accident on social media, saying in an Instagram post that he "walked out without a scratch" and that he is "feeling so incredibly blessed."
An emotional Weatherford teared up as he recounted the accident to reporters following the Giants' OTA on Monday.
"I'm very fortunate to be standing here," Weatherford said, "very fortunate to be alive."
Weatherford said he was driving approximately 65-70 miles per hour, right around the speed limit, when he suddenly came upon a drainage clog.
"Once my entire car got into it, it started to hydroplane," Weatherford said. "To be honest with you I don't know how many times I spun around, but after maybe the second third or fourth one I started to see the median coming at me, so I just kinda braced up. I'm incredibly blessed that the airbags deployed — I got a couple cuts, couple burns and a busted lip, but I walked out of the car."
Weatherford said that soon after he exited the vehicle, another car hit the same pool of water and crashed into his. He said he managed to get the driver out of the car and onto the shoulder of the highway.
"Finally the fourth door that I tried to open — I had to jiggle it a couple of times and then put my foot on the car and pried it open, and I peek inside and a guy's completely knocked out and gushing blood from his nose," Weatherford said. "I was a little bit nervous at that point not to touch his neck, and so I'm trying to jostle his shoulder to wake him up because if he can move we gotta get him out of the car because there's about to be a pileup."
Weatherford said that New Jersey State Troopers responded to the scene and drove him home. He also said that the other driver appeared to avoid major injury but was taken away on a stretcher.
The 32-year-old Weatherford, whose wife gave birth to a baby girl last week, originally was scheduled to fly from his home in California to New Jersey on Sunday so that he could attend the Giants' OTA on Monday. But his flight to Newark was re-routed to Washington, D.C., because of weather, forcing him to rent a car and drive to New Jersey.
OTAs are voluntary, but Weatherford said he felt it was a priority to get back after missing the Giants' three OTAs last week.
"My family's here," Weatherford said. "I took care of my 'family' family, Team Weatherford. But these guys are my brothers. We've got a lot to prove this year, Coach Coughlin's got a lot to prove this year.
"We're working every day towards our goal, to make the playoffs and getting on another one of those magical runs. But all that success we're going to get this fall and this winter, all those successes are accomplished and earned when nobody's looking right now, and I wanna be a part of it."
Weatherford participated on the field as usual on Monday, but it sounds like he'll have a renewed appreciation of life, and its fragility, going forward.
"I've always been an optimistic guy," Weatherford said. "But after the experience last night, there's no other way to explain it than a blessing."
Weatherford tweeted a photo of himself Monday at the Giants' facility.
ESPN.com Giants reporter Dan Graziano and ESPNNewYork.com's Kieran Darcy contributed to this report.