Apple Takes on Distracted Driving With New iPhone Feature
We all know that driving and cell phones can be a deadly mix. Distracted driving has been responsible for thousands of deaths and injuries each year. Unfortunately, even with the knowledge of the dangers, hundreds of thousands of people each day are guilty of using their cell phones or other electronic devices while driving. The temptation to quickly glance at your phone when you hear a ping can be very difficult to resist for many drivers.
Since we all know that most people are typically unwilling to turn off their cellphone or leave it at home, Apple is trying to combat the deadly problem by introducing a new solution aimed at keeping drivers' eyes on the road and away from their tempting phone. When Apple's iOS 11 update rolls out this fall, it will include a "Do Not Disturb While Driving" mode.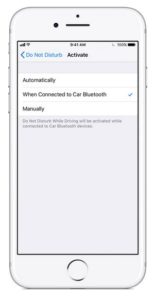 With the new iOS update and with the feature turned on, your iPhone will be able to detect when you are driving and will automatically silence all notifications. Essentially, your screen will remain dark regardless of the number of texts, emails or social media notifications. Contacts can receive an automatic reply informing them that you are driving and will get back to them once you arrive safely to your destination.
Apple's announcement of the new feature follows a lawsuit filed in December 2016. The plaintiff in the case was a family who claimed their 5-year-old daughter was killed by a distracted driver allegedly using the FaceTime video chat feature. The lawsuit asserted that despite a 2014 patent application for a safety feature to block the use of FaceTime by drivers, Apple never got around to implementing it.
As of now, it is unclear if there will be an override for certain contacts as with the 'Do Not Disturb' feature currently on iPhones for nighttime hours. With the feature already in place, the do not disturb setting will be temporarily ignored if certain contacts call or if three consecutive calls are attempted by the same number. We are currently unsure if the override will be a component for the 'Do Not Disturb' while driving feature with the new iOS.
We have also learned that the iPhone itself will not be on total lockdown. For those concerned about other functions, they will be happy to hear that you can still play your music or get navigation assistance through maps and other routing software.
iOS 11 is currently in beta and will be released to the public this September.