California Jury Awards $2 Billion To Couple In Roundup Weed Killer Cancer Trial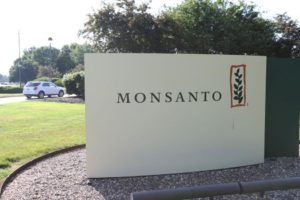 Of the thousands of cancer patients suing Monsanto, claiming its popular weed killer Roundup gave them cancer, only three cases have gone to trial. And all three juries have sided with the patients, including a California jury that just awarded a couple $2 billion in damages.
The latest jury in Alameda County California ruled that the plaintiffss, Alva and Alberta Pilliod of Livermore, California, contracted non-Hodgkin's lymphoma because of their use of Roundup Weed Killer, a glyphosate-based herbicide. They were each awarded $1 billion in punitive damages and an additional $55 million in collective compensatory damages.
However, legal experts believe that total will go down significantly after the company appeals the ruling.
The couple have been battling cancer for the last nine years, Alberta, 76, said after the ruling, and she said that their illness has significantly affected their quality of life. They reportedly had used Roundup at home and on multiple properties they bought and renovated and they did not use protective gear because they did not think it was necessary.
The verdict represents the third such verdict for Monsanto since mid-2018. In March, a San Francisco jury awarded $80 million to a man who claimed Roundup was responsible for his cance. In August 2018, another San Francisco jury awarded $289 million to a fourth plaintiff. On appeal, a judge reduced the payout amount to $78 million. Bayer, the parent company of Monsanto, is appealing each of these verdicts. The company insists there is no link between Roundup and non-Hodgkin's lymphoma.
Bayer released a statement on its Twitter page after the jury's verdict in California and has repeatedly said that glyphosate, the active ingredient in Roundup, is safe.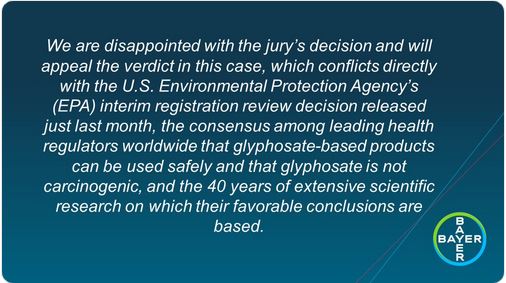 The American Cancer Society lists glysophate as a "probable carcinogen," based on a 2015 finding that it is "probably carcinogenic to humans" by the International Agency for Research on Cancer, a part of the World Health Organization. The IARC's classification has been controversial and subject to criticism and debate.
Since Monsanto did not address the risk of lymphoma as a consequence of using Roundup, personal injury attorneys have a clearer pathway towards holding Monsanto responsible. If you think that you may have a case against Monsanto due to your use of Roundup, it is critical that you act fast. We would be happy to discuss your specific situation with you. Time is of the essence when it comes to your health and your case against this biochemical giant.
Call the Duque Law Group now at 1-877-241-9554 to learn more about your legal options. A free consultation is just a phone call away.