Los Angeles Rated Most Unsafe City for Pedestrians
The city of Los Angeles has many perks, but it is also home to some of the worst traffic in the country. so it isn't shocking that the county has nearly three times as many pedestrian fatalities than the next-highest location
According to a new study by the Auto Insurance Center, Los Angeles is still one of the most dangerous cities for pedestrians, claiming the number one spot for pedestrian deaths in the entire United States. The organization looked at National Highway Traffic Safety Administration data for 2014 and concluded that when a pedestrian is struck by a car or other motor vehicle in Los Angeles, he or she is much more likely to suffer serious injuries or to be killed.
San Diego County came it at number four on the list. San Bernardino came in seventh and Riverside came in 14th. So four out of the top fifteen worst counties in the nation for pedestrians are located right here in Southern California.
The 207 pedestrians that died in LA County is more than double the traffic deaths than Maricopa County in Arizona, the second-ranked county in the country.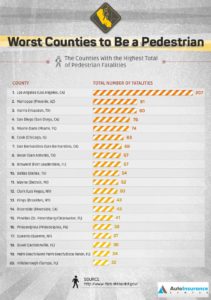 Earlier this year, the National Safety Council reported that traffic deaths overall went up 6 percent nationwide in 2016. So what accounts for this rise in pedestrian deaths and what can we do about it?
The major factors that account for the higher death rate of pedestrians include:
People Are Driving More Average Miles Per Year
It is hard to say exactly what might be driving the overall rise in pedestrian deaths, but one obvious reason is that there are simply more cars on the road. The number of miles traveled by vehicles increased 2.8 percent between 2015 and 2016 then rose another 1.2 percent the first half of last year, according to Federal Highway Administration data.
A stronger economy and lower gas prices has put more cars on the road and has people driving more often. Drivers distracted by their devices are also a well-documented, rising cause of traffic accidents.
Distracted Walking Is On the Rise
You see people walking just about everywhere these days. While walking can help you stay healthier and physically fit, it can also be extremely dangerous when your head is down and your attention is on your cellphone.
Emergency room visits involving distracted pedestrians using cellphones were up 124 percent in 2014 from 2010, according to Consumer Product Safety Commission data analyzed by the Wall Street Journal. Half of pedestrians admit talking on the phone while walking across the street, and a quarter say they text or email while crossing the street, even though most realize the danger associated with this activity.
Roads Are Designed for Cars, Not People
Despite efforts to increase walking, cities continue to be built with cars, rather than pedestrians, in mind. Millions of Americans live in communities without safe places to walk. This results in them choosing not to walk and adding to traffic congestion, or they do walk and risk injury or death.
The safest cities tend to be older ones, particularly in the northeast, that were developed long before the car became the dominant form of transport. Streets are narrower and cars cannot drive as fast as they can in newer cities.
More Hybrids Are On the Roads
Hybrids are very quiet, especially when running on only electric power. This makes hybrids significantly more dangerous for pedestrians since they often do not hear them approaching, especially in slow speed areas such as parking lots. A government study examined the crashes of hybrid vehicles and similar non-hybrid vehicles and found that the likelihood of crashing with pedestrians is 66 percent higher for hybrids when turning, stopping and backing up. Hybrids may be as much as 20 percent more likely to be involved in pedestrian crashes with injuries than conventional automobiles.
Contact An Experienced Personal Injury Attorney Today
If you have been seriously injured in an accident with a vehicle while you were trying to cross the street, you likely need to seek the help of an experienced personal injury lawyer. An experienced attorney may help you to prove that the driver was at fault for causing your accident so that you might recover damages. This may help you to be made financially whole again. Call us now at 1-877-241-9554 to learn more about your legal options. A free consultation is just a phone call away.