New California Law Allows Alcohol Providers to Offer Free Rides to Drinkers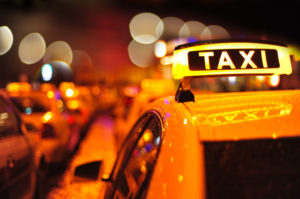 Getting home safely after a night of drinking could get even easier, thanks to a new law that went into effect January 1, 2018. Under current rules, alcohol providers and sellers were prohibited from giving free goods or gifts in connection with alcohol consumption. Assembly Bill 711 allows sellers to give out vouchers or promo codes for discounted ride-sharing services like Uber and Lyft, taxicabs or other ride options.
The bill was introduced by Assemblyman Evan Low, who represents part of Silicon Valley, and passed the Legislature in a unanimous vote. Low was motivated to write the legislation following Super Bowl 50 in 2016 that was held at Levi's Stadium in Santa Clara. The law at the time prohibited beer manufacturers from providing rides after the game in an effort to keep the community safe. Governor Jerry Brown signed it into law on September 11, 2017.
Under AB 711, codes or vouchers can be given to alcohol sellers or directly to alcohol consumers. However, they cannot be offered as incentives to buy a company's product. Alcohol manufacturers are allowed to pay for customers' rides in 44 other states and the District of Columbia. AB 711 allows California to join these 44 other states in their efforts to reduce the numbers of drunk driving incidents.
If you have questions about this new law and how it might affect you, call us now at 1-877-241-9554. A free consultation is just a phone call away.