Safety Commission Releases Theme Park Injury Statistics
Southern California is famous for its theme parks, carnivals and festivals! The most famous of these parks include Disneyland, Six Flags Magic Mountain and Knott's Berry Farm, but smaller carnivals and festivals pop up within our state all year round.
While this wide array of theme parks attract tourists and provide entertainment for residents, they are not without their own issues. A new report released by the US Consumer Product Safety Commission raises concern over the lack of consistent regulations.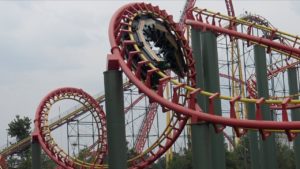 US Consumer Product Safety Commission Report Findings
In July 2017, the US Consumer Product Safety Commission released statistics that indicate each year, thousands of injuries are reported around the country. According to the US Consumer Product Safety Commission, emergency rooms saw an estimated 30,000 injuries associated with amusement parks throughout 2016. However, experts warn that data about amusement park safety is limited, and regulations are inconsistent.
The problem arises when you consider the fact that the International Association for Amusement Parks only collects safety data on fixed-site amusement parks and not on amusement parks that move from location to location, such as the annual carnivals, state fairs and festivals arriving each year in towns across the state.
The Consumer Product Safety Commission oversees the regulation of mobile amusement parks. However, it is up to the individual state or locality to decide who is responsible for inspections of the mobile parks. For fixed-site amusement parks, there is not one body nationally that oversees regulation — instead that is left to state and local governments.
Under the current system, it is difficult to get a clear picture of what is happening since regulation and enforcement leave much to be desired. The country needs a national injury reporting system that includes mobile sites in addition to the fixed-site to allow for more accurate scrutiny and more consistent enforcement of standards.
At the Law Offices of Brent A. Duque, we want theme park visitors to know that they have the right to file for medical expenses and damages in the event of an injury. Theme parks need to be held accountable for negligence!
Our team of premises liability attorneys are highly professional, knowledgeable, aggressive and successful in representing injured people all across Southern California. Time limitations apply to any personal injury claim you might have, so it is best for you to contact us immediately at 1-877-241-9554 after an accident to learn about your legal options. A free consultation is just a phone call away.