New California Law: Use of Wireless Electronic Devices While Driving
In California, Assembly Bill 1785 took effect on January 1 of this year. The new law explicitly prohibits the use of a mobile phone while driving unless the device is in a completely hands-free mode. Drivers are no longer allowed to hold a wireless telephone or electronic wireless communications device while driving a motor vehicle. An "electronic wireless communications device" includes, but is not limited to, a broadband personal communication device, a specialized mobile radio device, a handheld device or laptop computer with mobile data access, a pager or a two-way messaging device."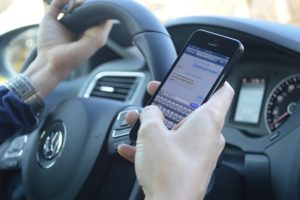 Drivers are prohibited from holding and operating a handheld wireless telephone or electronic communications devices while driving, unless it mounted on the vehicle's windshield, or affixed to a dashboard or center console in a way that does not hinder the individual's view of the road or proper deployment of an airbag. The law does allow a driver to operate one of these devices with the motion of a single swipe or tap of the finger, but not while holding it.
In addition to texting and calling, it aims to prohibit other cellphone uses while driving, such as taking photos or streaming video.
Call us at 1-877-241-9554 to learn more about your legal options. A free consultation is just a phone call away.