Driving While Drowsy Can Be As Dangerous as Driving While Drunk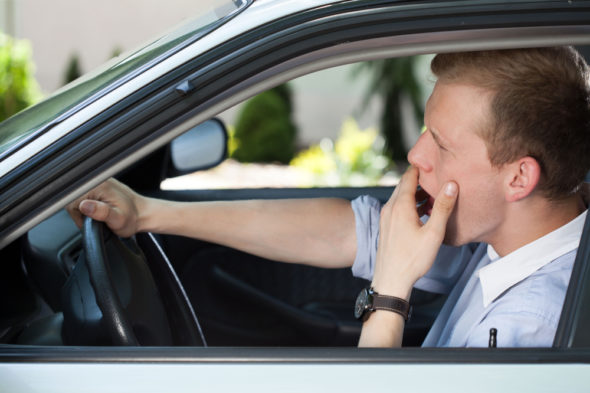 According to the National Sleep Foundation's 2005 Sleep in America poll, 60% of adult drivers – about 168 million people – say they have driven a vehicle while feeling drowsy in the past year, and more than one-third have actually fallen asleep at the wheel! The National Highway Traffic Safety Administration conservatively estimates that 100,000 police-reported crashes are the direct result of driver fatigue each year. This results in an estimated 1,550 deaths, 71,000 injuries, and $12.5 billion in monetary losses. These figures are likely quite low since it is difficult to accurately attribute sleepiness as the cause of a crash.
The Impact of Drowsy Driving
We all know that we should never drive drunk — but would you drive drowsy? Turns out, drowsy driving is just as dangerous because sleep deprivation can have similar effects on your body as drinking alcohol. Being awake for 18 straight hours can cause you to drive in a similar manner as a driver with a blood alcohol level of .05 (for reference, .08 is considered drunk). A driver who has been awake for a full 24 hours is similar to a person with a blood alcohol level of .10. Driving while drowsy makes drivers less attentive, slows reaction time and affects a driver's ability to make decisions.
The National Highway Traffic Safety Administration estimates that between 2005 and 2009 drowsy driving was responsible for an annual average of:
83,000 crashes
37,000 injury crashes
886 fatal crashes (846 fatalities in 2014)
Drowsy Driving Is Similar to Drunk Driving
Your body needs adequate sleep on a daily basis. The more hours of sleep you miss, the harder it is for you to think and perform as well as you would like. Lack of sleep can make you less alert and affect your coordination, judgement, and reaction time while driving. This is known as cognitive impairment.
Studies have shown that going too long without sleep can impair your ability to drive the same way as drinking too much alcohol.
Being awake for at least 18 hours is the same as someone having a blood content (BAC) of 0.05%
Being awake for at least 24 hours is equal to having a blood alcohol content of 0.10%
These numbers are higher than the legal limit (0.08% BAC) in all states
The Warning Signs of Drowsy Driving
If you experience any of the warning signs of drowsy driving while driving, pull over to a safe place and take a 15-20 minute nap or change drivers. Simply turning up the radio or opening the window are not effective ways to keep you alert.
Yawning or blinking frequently
Difficulty remembering the past few miles driven
Missing your exit
Drifting from your lane
Hitting a rumble strip
How to Prevent Drowsy Driving
Get enough sleep! Most adults need at least 7 hours, while adolescents need at least 8 hours
Develop good sleeping habits such as sticking to a sleep schedule
If you have symptoms of a sleep disorder, talk to your physician about treatment options
Avoid drinking alcohol or taking medications that make you sleepy
If you or a loved one have been injured through the fault of a drowsy driver, you deserve fair compensation. Contact our Personal Injury Attorney at 1-877-241-9554 to learn more about your legal options. A free consultation is just a phone call away.